I was lucky enough to get a free sample in the mail of Purex Complete Crystals to try and review!
Firstly, I used it to wash my bed sheets, I figured that would be the best way to really get the full effect of the Crystals. And I was right! My sheets were super soft and smelled a lot fresher than they do with my normal detergent and dryer sheet routine. And four days later, the sheets are still smelling fresh! I really liked the product and definitely will continue to use it and make it a part of my regular laundry routine!
Purex Complete Crystals are NOT oil based like almost all traditional liquid fabric softeners. These traditional liquid fabric softeners work by coating your fabrics in oil. (Ick!) Purex Complete Crystals are 92% natural, instead of coating your fabrics with oil - they work by penetrating the fabric and infusing fibers with freshness that lasts for WEEKS, not days.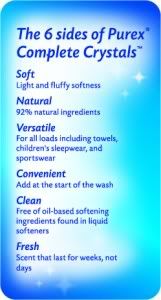 And this is how they work!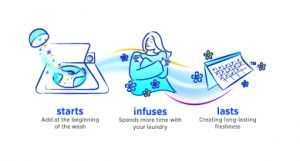 Purex Complete Crystals comes in three different varities Lavendar Blossom, Fresh Spring Waters, and Tropical Splash!
You can get your own FREE bottle of Purex Complete Crystals by commenting on this blog post telling me which scent you would chose! Extra entry if you follow my blog and/or follow me on
Facebook
. Leave me a comment letting me know that you do and it will count as an extra entry! This giveaway ends two weeks from today on March 17!
Please leave your Email address in your comment so that I have a way to contact you once the giveaway is over.
*Edit: THREE of my readers will get a coupon for FREE full sized bottle of Purex Crystals Complete!
For even more info about this awesome product, you can go to
Purex Website
and learn more!