I have to admit that going to my mailbox to get my mail is one of the high points of my day. I'm pretty sure my mailman hates me as he tries to stuff my mailbox full of all my freebies.
Here are my goodies from yesterday and today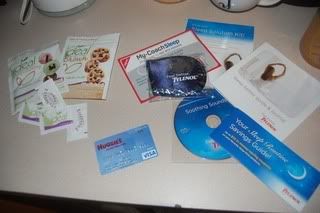 Ideal Low Calorie Sweetener - came with four little packs, a pouch of Confectionery and Brown 'sugar' (no longer available)
$10 Visa Card from the
Huggies Enjoy the Ride
Instant Win game
Tylenol PM Sleep Kit - Came with a relaxing CD, Night mask, and a coupon book full of $12 in coupons for various products (no longer available)
Anyone get any goodies in their mailbox today?